There's a growing trend of people becoming more alert to the ingredients they're consuming. Branded fast-food providers are offering healthier vegan options, and the global consumption of sugar-sweetened beverages is being hit as sugar taxes are introduced to tackle obesity. Companies within the beverages industry in particular — such as Britvic and The Coca-Cola Company — are having to adapt to healthier methods of achieving their signature — like the ones being offered by this growth stock — in order to retain their customers.
The opportunity
Treatt (LSE:TET) is a chemicals company that specialises in the design and manufacture of natural flavours and fragrance solutions for over 900 clients.
Inflation is out of control, and people are running scared. But right now there's one thing we believe Investors should avoid doing at all costs… and that's doing nothing. That's why we've put together a special report that uncovers 3 of our top UK and US share ideas to try and best hedge against inflation… and better still, we're giving it away completely FREE today!
The firm offers a diverse portfolio of products that are widely applied throughout the food & beverage industry as well as cleaning supplies industry.
What's more, by using all-natural ingredients in its solutions, clients don't have a long list of chemicals printed all over their products that would deter customers. This competitive advantage has made Treatt very sticky with its clients.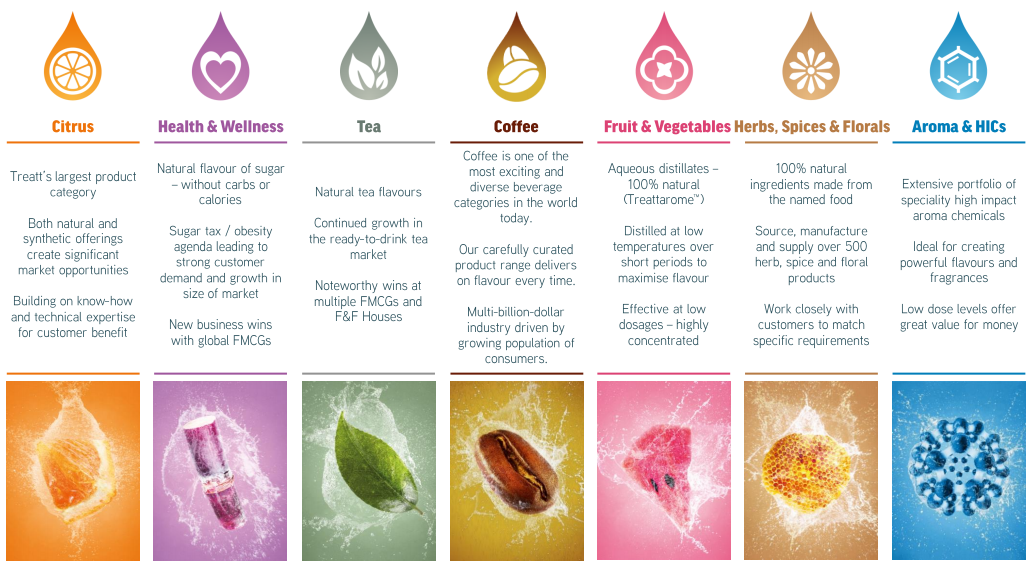 The growth stock works directly with its clients and suppliers in the development of new flavours and fragrances as well as ensuring that quality isn't compromised.
As such, the R&D department has seen a continually rising budget, attracting a wide array of talented laboratory researchers who make the design and development of the bespoke solutions possible.
The financials
Despite some initial disruptions from the Covid-19 pandemic, the firm has continued to perform in line with expectations and ahead of 2019 results, with its Health & Wellness products leading the charge with a 16% increase in revenue.
| | | | | | | |
| --- | --- | --- | --- | --- | --- | --- |
|   | Citrus | Health & Wellness | Tea & Coffee | Fruits & Vegetables | Herbs, Spices & Florals | Aroma & HICs |
| Revenue (£m) | 54.5 | 7.6 | 6.5 | 7.6 | 12 | 21 |
| 1-Year Growth (%) | -10 | 16 | -2 | 10 | 8 | 0 |
| Revenue Portion (%) | 50 | 7 | 6 | 7 | 11 | 19 |
While Citrus – the most prominent portion of revenue – saw a 10% decline in sales, the overall underlying profit from this segment increased compared with 2019.
In addition the firm experienced rising demand for citrus co-products for industrial and household cleaning products across the globe. Therefore I think that the decline is likely linked to minor disruptions to operations in the early stages of the pandemic.
All other segments bar Tea & Coffee – which saw a 45% increase in revenue in the first half of 2020 – have seen growth in line with expectations.
The risk factor
The firm's reliance on natural ingredients for its products has given it a valuable competitive advantage over rivals. But it has also exposed it to fluctuating crop commodity prices – especially the price of orange oil.
A sudden price increase in these commodities would have an adverse impact on the level of profitability of the business. However the growth stock has strong pricing power with its clients. It would likely be able to pass costs on to them for a short period of time. Of course, the opposite could occur. The price of orange oil has declined from $13/kg to nearly $4/kg since 2017, leading to an increase in profit margins.
Along with global food & beverage trends shifting towards a healthier lifestyle, the desire for exotic flavours and fragrances has grown. I believe Treatt's design and manufacturing infrastructure around the world places it in the perfect position to continue creating a series of bespoke products for its ever-expanding roster of clients.