Biden bounce! 1 cheap FTSE 250 stock I'd buy today
The content of this article was relevant at the time of publishing. Circumstances change continuously and caution should therefore be exercised when relying upon any content contained within this article.
US President-elect Joe Biden has announced many reforms to the energy sector. These kinds of reforms already exist in the UK, and this cheap FTSE 250 stock has been a significant beneficiary.
The UK became the first major economy to pass a net-zero emissions law in 2019. This requires various industrial sector companies to eliminate all greenhouse gas emissions by 2050. Contrary to popular belief, the transition to net-zero emissions appears to be progressing well. In 2018, UK emissions were 44% lower than levels in 1990, primarily due to innovations in the energy sector.
Today renewable energy technologies generate approximately 46% of electricity. Wind farms generate 33% of that.
A renewable opportunity in the FTSE 250?
Greencoat UK Wind (LSE:UKW) is an investment trust that specialises in UK wind farms. It allows investors to indirectly own wind turbines and profit from the electricity they generate.
The business is quite simple. Led by the board of directors, the trust identifies critical wind assets around the country and adds them to the portfolio.
Greencoat sells the energy directly to the national grid. It invests profits into future investments and pays them out as dividends to shareholders. Running wind farms is not a particularly capital intensive operation. Excluding maintenance costs, the remaining expenses are negligible, allowing for an average operating profit margin of over 80%. This level of profitability is partly due to only 17% of owned wind farms being located off-shore. These are typically more expensive to maintain.
Management has also enacted financial restrictions that shield shareholders from unnecessary risk. For example, the firm cannot have more than 40% debt as part of the capital structure.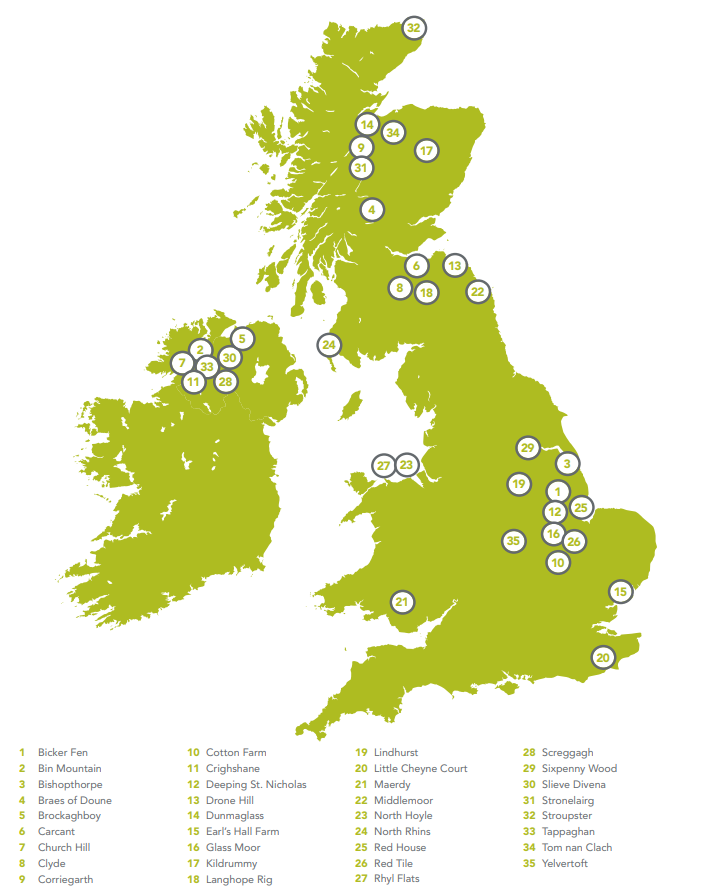 Source: Greencoat
The financials
Greencoat's 2019 income statement reveals an over 60% decline in revenues from the prior year. This decline was a result of multiple faults in several farms that were taken offline for repairs.
In the most recent interim report, the company announced it had fixed these faults. Revenue for the first half of 2020 currently stands at £135m with an estimated final revenue of £270m. This represents a 200% and 16% increase in revenue compared to 2019 and 2018, respectively. While this is undoubtedly good news, it does reveal how much damage a few faults can have on the overall performance of the business – an ongoing risk.
Lack of price power is another unavoidable issue. Approximately 50% of all revenues are exposed to the floating power price. With legislation capping energy prices, there is little room for electrical price appreciation.
The bottom line
Joe Biden is set to be the 46th US president, and the market is enjoying large returns from the 'Biden Bounce'. The additional pressure on the global energy sector to transition to renewable energy may result in new innovations in wind farm technology.
Despite its limitations, the FTSE 250 stock has become the UK's leader in wind generation. The dividend remains linked to retail price index inflation and at current prices represents a 5.3% yield that has been steadily increasing by 4% each year. Mixing low reliance on debt, continuous cash flow, a handsome dividend, and a very windy country, creates a recipe for success in my eyes.
Zaven Boyrazian does not own shares in Greencoat UK Wind. The Motley Fool UK has recommended Greencoat UK Wind. Views expressed on the companies mentioned in this article are those of the writer and therefore may differ from the official recommendations we make in our subscription services such as Share Advisor, Hidden Winners and Pro. Here at The Motley Fool we believe that considering a diverse range of insights makes us better investors.
Our 6 'Best Buys Now' Shares